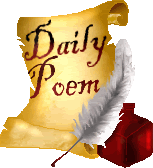 Graphic by [Adon]
Are you a poet? If you are, or you just like writing poems, this is the place for you! Welcome to the Daily Poem, where once a week the Poem Bosses go over all the submitted poems and feature one on Mainstreet!



Guidelines for Posting
Just follow these simple rules:

All poems submitted must be Elf12 friendly. That means nothing "super gothic" or such. Also, you should try very hard to remove any bad language. If you have a poem you are in doubt about, please message one of the Poem Bosses.

Do not submit poems that you did not write. Unless you wrote the entire poem yourself, you are submitting a copyrighted poem and thus it is not allowed. Also, if you had help with a poem, give credit to the person who helped you.

Also, remember that we like nice poems. If you submit something that is less then three lines, or that shows you did little work on it, the Poem Bosses are not likely to feature it.

If you want to submit a poem, please do so on:
Daily Poem: Submissions

Congratulations to [Morningstar Rising]
on your poem,
"To All My Friends"

Related pages: